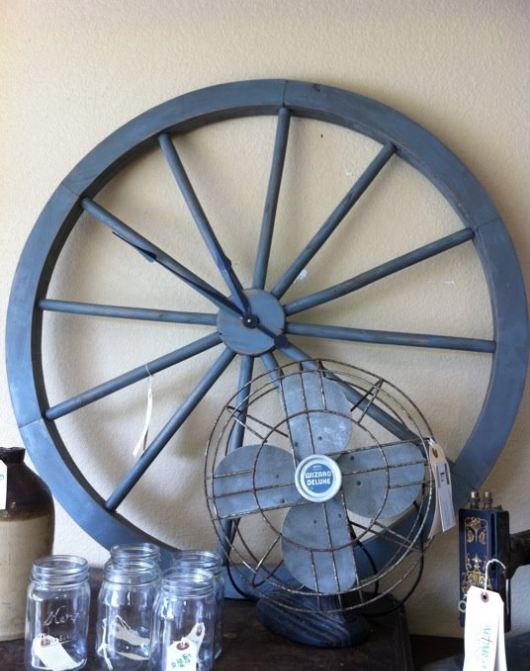 I'm not sure where the idea for this clock came from – but I do remember talking with Lauren about wanting to get a wagon wheel and her giving me the crazy "what in the world are you smoking" look. I let the idea marinate for a long time until we came across an unfinished wagon wheel while digging for other treasures. I think that's the day we bought a window just because the lock on it was awesome. Yes, we are those people – we buy broken windows and one wheel.
Anyways, this was a very easy project to do – minus the tiny detail of needing to find the right mechanism and sized clock arms. I had to order those online – but in the interim, Lauren painted the wheel with a paris grey and added some waxing details. I then hollowed out the backside of the wheel hub to ensure that the clock motor fit flush – and then we put everything together. Easy as that. Wagon wheel clocks are not a new concept – but I've never seen one like this! We would have kept it but we already have a large clock over our mantel and I'm not about to try and take that one down.
If you are interested in this clock, Mandie @ Altar'd has it from the sale on Saturday. If you are interested in it, just contact her or us and we can arrange pick up/delivery.