Under $5,000: Living Room & Dining Room Furnished!
Yes, we completely furnished & designed our living room & dining room for under $5,000 – actually under $4,500 to be exact. Before folks start to riot and say that's a lot (especially for all the bargain hunters out there) – let me show you what we started with: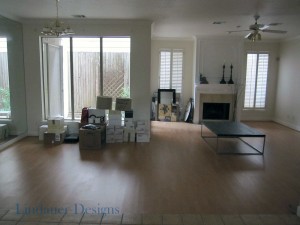 That's it – that's all the furniture/decor that we had before moving into our new place. When I say the buyer of our previous home bought everything, I really mean they bought everything! The only reason the coffee table made it with us was because I built it after the sale of the house went through! Lauren We sold everything that wasn't nailed down – because really, how often do you get the opportunity to start over completely from scratch? And BTW, most of the boxes pictured above were our wedding china, so we really didn't have anything to start with.
So in basically 3 short months (we moved in March and started having guests over in June) we went from having nothing to sit on, eat on or even watch to this: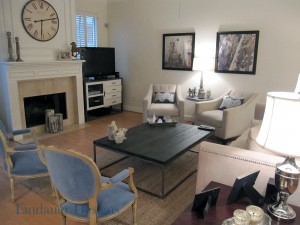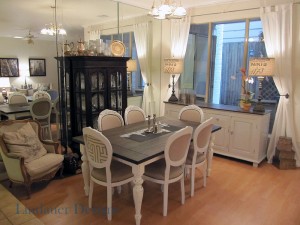 And to top it off – we either built or refinished 80% of the items in the room. The buffet, dining table, dining chairs and china cabinet in the dining room were all refinished. In the living room, I built the coffee table, refinished the media cabinet & sofa table and everything else was bought at discount stores, yard sales, estate sales or with coupons. In fact – only 4 items were bought 100% brand new – the couch, the two arm chairs and the spotlight lamp in the corner. And all of those were bought on sale or with a coupon. Most accessories were found at sales or at random consignment shops and/or Goodwill. All of this was done under our budget and includes all the accessories/stuff you see (pillows, candles, lamps, birds, etc…).
Lauren did the design and decor selection – she has a fantastic eye and taught me a lot about colors and styles (granted, I still don't understand 90% of the stuff). She's now working on two other homes and taking bookings for future work.
How the cost broke down:
Living Room:
New furniture: $1,400 (couch, chairs & lamp)
Refinished/Custom Built: $200 (coffee table, sofa table, side tables)
Accessories/Electronics: $1,500 (lamps, tv, misc stuff)
Dining Room:
Refinished/Custom Built: $1,000 (dining room table, dining room chairs, buffet & china cabinet)
Accessories/Electronics: $300 (lamps, place mats, misc stuff)
If you are interested in where we found anything or looking for home decor (or refinishing help) – just contact us or leave a comment. We are always happy to help!