Refinishing a Steelcase Tanker Desk Guide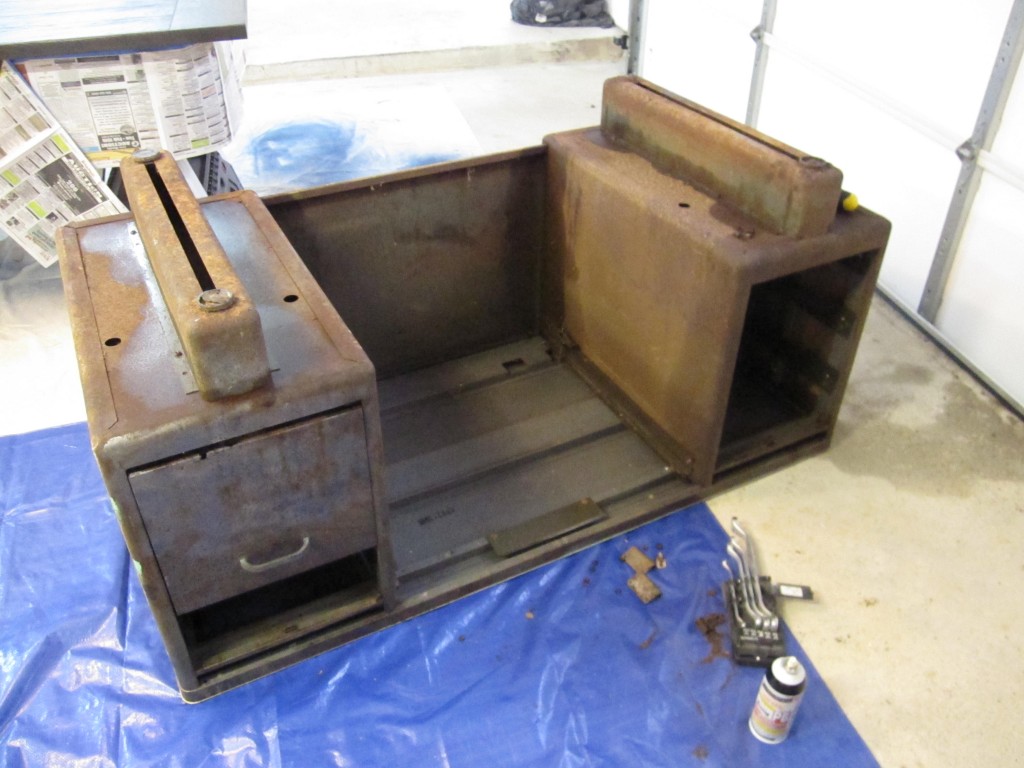 There has been a lot of interest in my post on the steelcase tanker desk I refinished for myself. Tons of folks searching on how to refinished theirs and what to do. I know because I was one of those people when I first brought this beast home.  And to answer why a lot of these pictures are upside down – well, to be honest, the desk weighs about 300lbs and getting it out of my truck by myself was not easy – so it landed on it's top (and only dented the floor a little).
If you find one of these for free like I did, chances are they are going to be rusted buckets of junk – so here is what I used to clean mine up:
Ryobi Grinder – If you don't have one and are tackling a job like this – spend the $40 and save yourself a years worth of work.
Grinding discs – I believe I used 4 for the entire desk.
Rustoleum Primer – Grey worked fine for me
Rustoleum Hammered Paint – This is your choice, I did black and grey for contrast
CLR – Buy the big jug – you are going to need it.
Goggles, gloves, a tarp to save your work space and a shop vac to clean up the mess. A patient wife helps to!
In total work time – this desk took me a solid weekend. I got it on a Thursday night and had it done by Sunday evening. But I didn't leave my garage except to sleep or go to Home Depot (which was 3 minutes away). Also – if you don't want to do this yourself, these can be sandblasted and powder coated for a pretty penny.
First steps – remove all the drawers and clean the thing out. Mine had small creatures living in it at one time I'm sure. And 2 of the drawers did not want to come out, but after some wrangling and seriously language, I got them all out.
Second, third and fourth – get rid of the rust. Grinding was the only way mine would budge – so I ground and ground and ground. Sparks were flying and I was covered in rust dust. But it worked. And the metal underneath the rust was in great condition.
Once you've gotten as much rust off as you can with the grinder, then I took the desk outside and cleaned it off with a damp rag. I then doused everything with CLR (wear gloves and goggles) and let that sit for a bit. I then scrubbed off the CLR with a wire brush to remove any small remaining remnants of rust. Then, everything dried in the sun before I gave it a total coat of the grey primer to prevent any future rust. Every bit of this desk was coated in this – inside and out. It took about 6 cans total.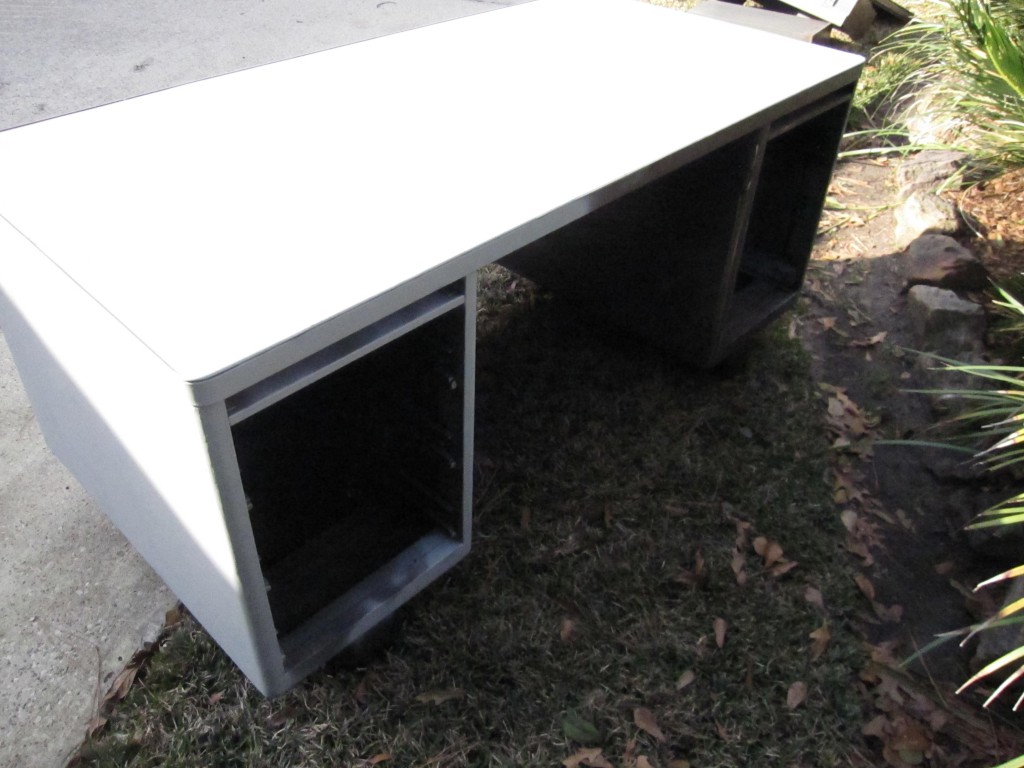 Then once the primer is dry – it's time to work on the final coat of paint. I used Rustoleum Hammered paint because it will hid the small dents the desk had a little bit better then just a regular paint.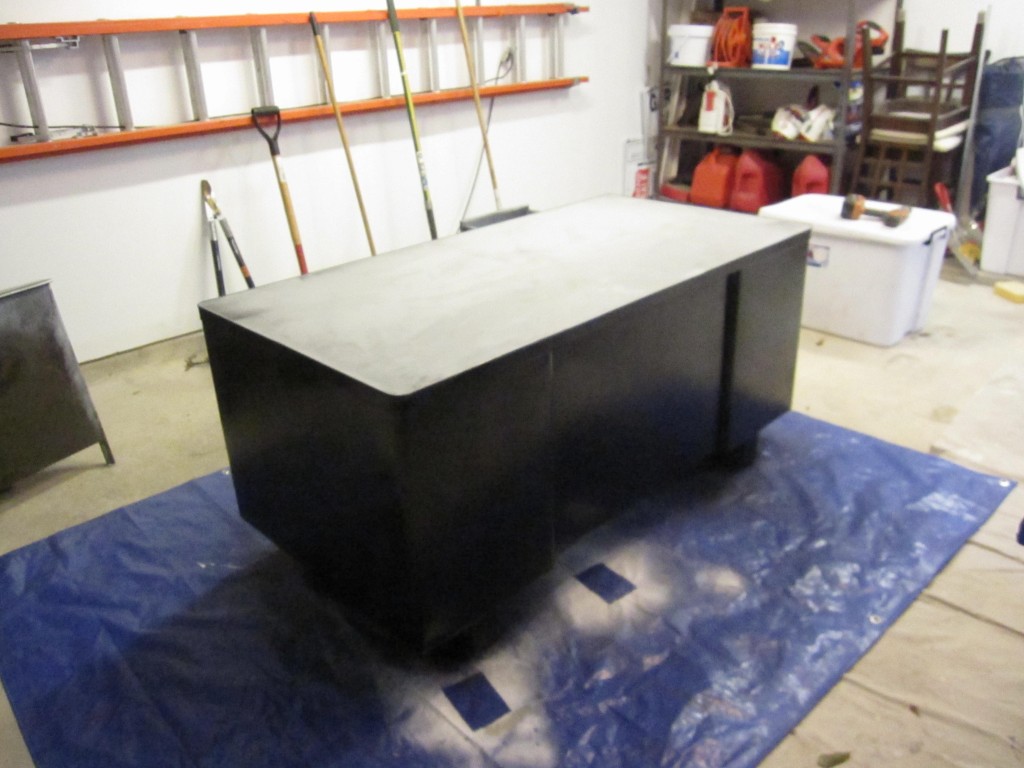 Then that's it – oh yeah – pay some movers to help you get the desk into the house.
It really is pretty simple – I know when I was researching what to do, I couldn't find much – but that's because there isn't much to be done, so there is not much to be done. If you are looking for the classic "Mad Men" style desk – find yourself a steelcase tanker desk – these last for years and are well worth the effort. Plus, they can double as bomb shelters *kidding*.
If you have a steelcase tanker desk your own and are looking to refinishing it – but have questions, just contact us and we'd be happy to provide any advice you need.