Paint Sprayers & Annie Sloan Chalk Paint
Well they say you only have to make a mistake once to learn from it – and that's exactly what we did. Lauren & I went to Home Depot one weekend (surprise, surprise) and came out with this little paint sprayer – convinced it would work better for us then anyone else.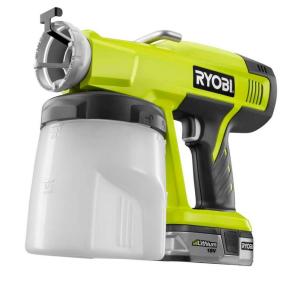 FAIL. Just FAIL. I tried and tried to get this little thing to work – it sprayed for a good 2 minutes, then would clog up – or start spattering the piece with large globs of paint. No amount of cleaning, thinning or other methods would get this thing to work properly. So I boxed it up and trucked back to Home Depot – doing a silent prayer in my head that they would take it back (hey, I did use it and I cleaned it – but paint gets everywhere!). The guy at Home Depot took it back without even looking in the case. I mean, I could have put bricks in there and returned it. (Granted, it worked about as well as a brick).
So we were back to square one. But then another client requested a piece be lacquered and for that I definelty need a sprayer, so I went off searching again. Low and behold, I found this gem on Harbor Freights website for $14.99! Granted, I held my breath when trying it – doubting the performance of something so cheap – but this gun rocks! If you have a compressor handy (or score one on Craigslist) get this gun!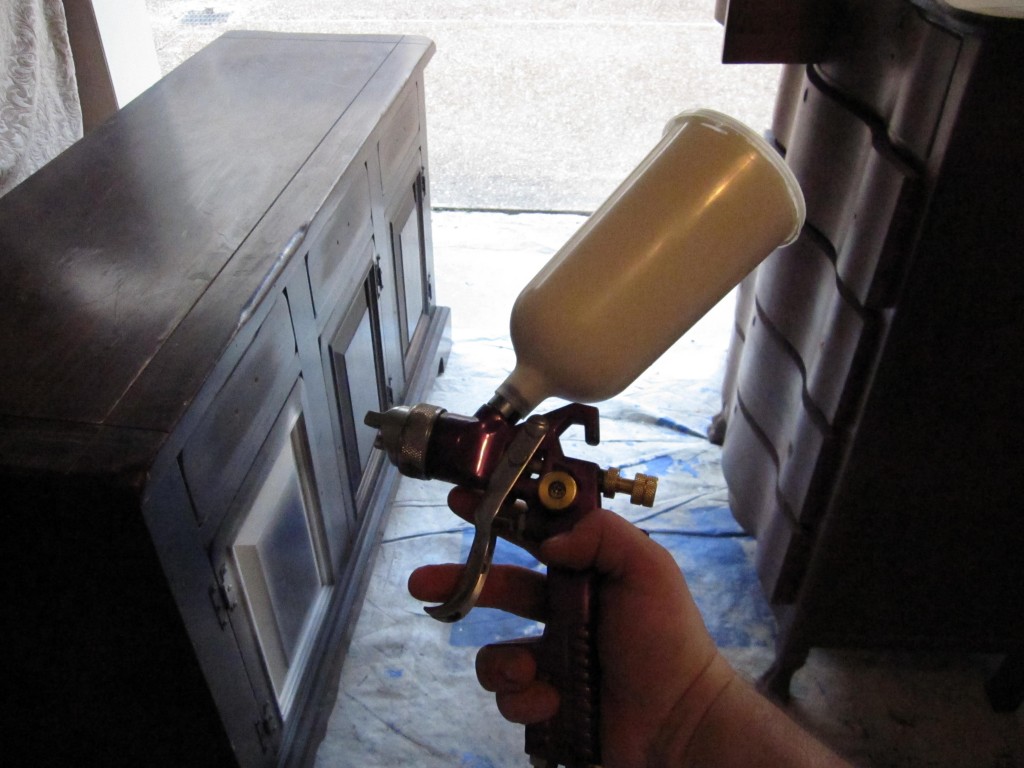 Before you run off and buy the gun – let me recommend 2 more items from Harbor Freight. First, spend the $10 and get the spray gun filler stand. Buy this unless you want to try pouring paint into the gun with one hand while balancing the gun and trying not to spill with the other. It doesn't work. Trust me – my black lacquered toes are not a fashion statement – I didn't buy the stand at first and had to wear flip flops with half my toes (and not just the toe nails) painted black for a few days. Buy the stand. (I just ordered mine last week).
Second – if you plan on using a variety of paints, buy extra cups. It's just easier that way – instead of having to rinse between paint colors.
I use a Porter Cable Compressor that Lauren bought me for my birthday this year – I got the entire nail gun kit but the compressor itself is available for just $99. One note if you have the porter compressor set like I do (an maybe for others as well) – the gun doesn't come with the male connector piece for your hose, so I removed one from my nailgun to use and it worked just fine. Later on a different trip to Home Depot I picked up the make connector for $1.49 so I don't have to keep changing things around.
So does this work with Chalk Paint? Like butta. I sprayed 5 pieces in 2 hours – did not have to thin the paint and I only used 1 can of paint (with some leftover). It was easy so not a lot of explanation necessary – just fired up the compressor, poured the paint in the cup and started squeezing the trigger. (I did have "the claw" after 2 hours of spraying though). The paint came out perfectly smooth – you can see a finished sample on the buffet we just revealed – and I'll have 4 more pieces completed this week that were all sprayed as well. I didn't have to thin the paint – just adjusted the gun to get the pattern I wanted and away I went.
Bonus: The beauty of this gun is the lack of overspray – now it's not perfect, but it doesn't create the cloud of paint that the other sprayers did. My arms weren't covered in paint and I wasn't sneezing out flecks of paint hours later. I probably didn't need to cover up the other pieces in the garage, but I did just to be safe.
If you have any questions/concerns with using a compressor – just leave a comment or contact us and I would be happy to help you out. They really aren't scary – just loud!