Nick's Office – Before & After
Well it's finally done – just 5 months after moving in, I've unpacked the last box! Well, not really – I still have little boxes, but for all the basic moving purposes all the big boxes are empty! My office was the last on my list to do – so it became a dumping ground of stuff.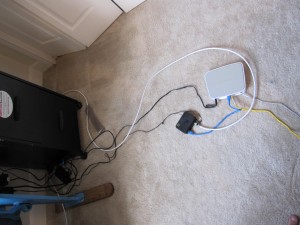 This little mess of wires was running across the floor – thanks to a DirecTV installer that didn't quite understand the basics. In this case the cable connection was installed on one side of the room and the phone jack on the other. Ugh! For 5 months, we stepped over this so as not to trip.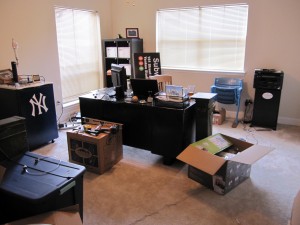 The obligatory before photos – of course every box in the room is ripped open. I started with the basics in this room – getting the keg up an running! And I couldn't find the keg parts – so every b0x was pulled open and sorted through. I should do a post about the kegerator – I also painted that myself.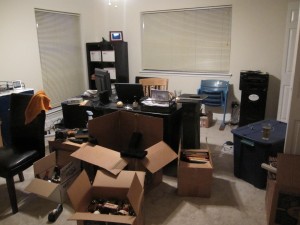 Somehow – during this process, it was looking worse before it started looking any better. I started this process pretty late Sunday evening – determined to have it cleaned up before people came over to use the keg on Monday. So by midnight on Sunday I had everything on the walls, most things organized and just needed to wait till morning to get Lauren to help me move the new furniture in.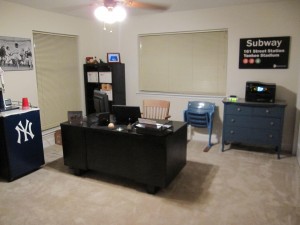 Notice the printer stand in the corner? I finished early on Sunday in order to get it ready for the cleaned up office. Yes, there is no symmetry going on here – but it's my one man space in the house – leave it be. 🙂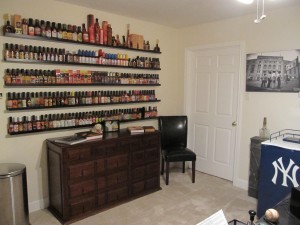 My wall of sauce – tragedy this time around though. This wall was shorter in length then the previous wall, so I have 5 extra shelves laying around and a ton of bottles stashed in the closet looking for a home. I need to figure out a space for those sometime soon.
Notice the buffet/dresser? That's another estate sale find. We had gone to an estate sale on Saturday but everything was only 30% off so we decided to come back first thing Sunday. I had my eye on a pair of curvy dressers – so as soon as the door opened I elbowed my way to the dressers. I had seen the buffet the day before but it was part of an entire set – I didn't need all of the pieces (2 night stands, a tall chest, headboards ect…) so I decided to think about it overnight. While trying to flag someone down to mark our dressers as sold, I spotted a couple of guys circling the bedroom set – they flagged someone down before I could and it looked like they were buying the entire set. I was crushed – but still happy about our dressers (those to come soon). When the doors open at a place like this – you have to grab the best stuff first and anything else is gravy. Lauren walked over to the couple and commented on the nice pieces and told them that we were looking at them yesterday.
They were nice and friendly, and we started chatting with them about the craziness of the sale when the salesperson volunteered that they didn't buy the entire set! They chimed in that the long dresser/buffet wouldn't fit into their place, so we could buy that one if we wanted. Sold! Within 15 minutes of getting in the door – we had bought 3 pieces.
Why was I so excited about this piece? 1) it's solid wood – not a stich of particle board anywhere. 2) check out those knobs/pulls – those aren't going anywhere anytime soon 3)it's at least 40 years old.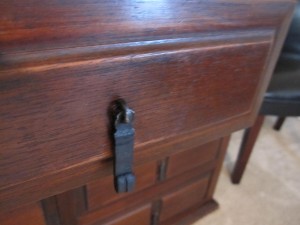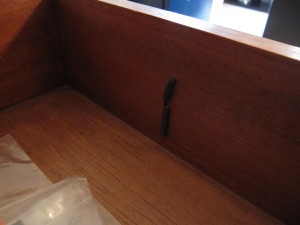 The knobs/pulls are nails that have been hammered into the drawer and split to remain in place.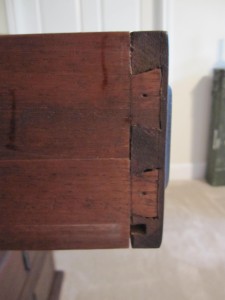 Look at that craftsmanship!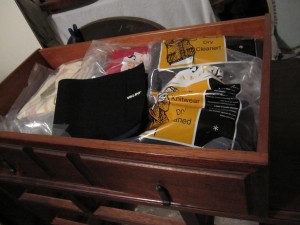 How do I know it's at least 40 years old? Well – this is you check all the drawers before hauling something off. I must have missed this one drawer because check it out – 15 vintage sweaters in dry cleaner bags! All in perfectly preserved condition, including a receipt dating back to 1968. Anyone interested in petite/extra small vintage ladies sweaters? We have 15 of them!