Mirror, Mirror (not yet on the wall)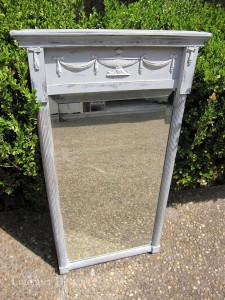 I admit it – I don't understand a lot of this home decor stuff (like the rule of 3's or 5's – huh?) so while at a recent auction, when this mirror came up and Lauren started excitedly hitting my arm (way to be discreet honey) – I just went with it and we picked up this "fabulous" mirror. Lauren did all the work on this one – so all the credit goes to her. In fact – she should be the one writing this post so she can tell you everything she did to it. But I'm the one at the computer – so your stuck with me.
This mirror was given a base coat of paris grey and then a top coat of old white on the details and some of the body. Then Lauren gently distressed and waxed to bring out the color. A before picture would have really help you see the mess this thing was in before – but I can't seem to find one – so it's up to your imagination.
This has been sold.