Lovely Curvy White Coffee Table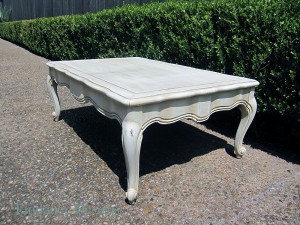 This little coffee table came to us from a client that wanted it re-done for her daughter who was moving for college. Since we had a deluge of furniture, I didn't get a chance to snap the before picture – but just imagine this all brown and neglected. Like anything else that's been owned a long time and put away – it had some warping on the top that had to be corrected before we could get started on the facelift.
Once the inlay was fixed, I painted the entire coffee table with Annie Sloan Old White (using the sprayer) – it took two coats to cover all the brown on this piece. Then I carefully waxed the entire thing with clear wax – making sure to get it in all the crack so that the brown wax wouldn't cover too much. Then after the clear wax dried, we applied the dark wax coat and then got into the distressing.
I don't know about you – but my coffee table in college was an old truck toolbox (a black plastic one at that) – so this piece is definitely an upgrade! And for very little cost as well – since the client already had the piece, all it took was a little freshening up!