How to: Create Your Own NYC Subway Furniture Design
STEAL THIS IDEA!
Just show us some love & link back once you are ready to show off your masterpiece! See the original NYC Subway Dresser here

Well our NYC Subway Dresser has become a huge hit – thank you to everyone for all the feedback & kind words. As much as it looks difficult – I hate to say it, but this piece was really really easy. I hate stenciling – all that dab dabbing drives me nuts, so when I was concepting this idea I wanted to make it as easy as possible. It's the K.I.S.S. method (keep it simple stupid). Or the lazy man's way – as I like to say, efficient! 🙂 The secret to this piece was not stencils or complicated taping – it was simply stick on vinyl letters from Hobby Lobby – yep, that's it!
Since I didn't take step by step pictures of the dresser in progress (because frankly, this was an experiment that totally rocked), I quickly whipped up a piece to show you the steps involved.
Step 1:  Get yourself a piece of furniture to work with and paint your base colors. For this example, I put on a few base color variations to see what worked with what. I used old white, paris grey, duck egg and abusson blue in this example. For the dresser, I used only old white (Annie Sloan Paints). And on the dresser, I sprayed the base coat. Learn how to spray Annie Sloan paint here.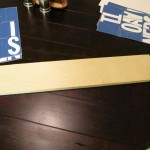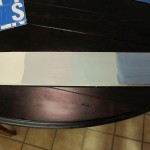 Step 2: Apply the vinyl letters once your base coat is dry. Critical here to make sure they are straight & aligned. Also – make sure you buy extras when doing a large piece. Nothing worse then running out of letters and having to come up with new words from what you have – this is where scrabble skills come in handy!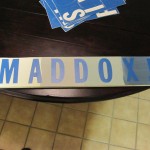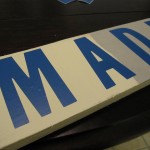 Step 3: Apply the top coat of paint & let dry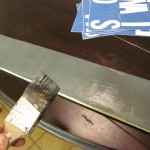 Step 4: Peel off the letters once the top coat is completely dry. A sharp knife comes in handy here – but be careful!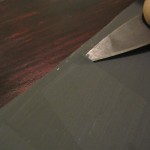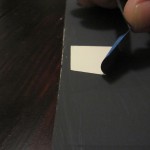 Step 5: Once all the letters are off, distress the piece with some sand paper to dull the edges of the letters & add some character. Interesting to see how light the graphite grey becomes with distressing, but don't worry – this will get fixed. I prefer to distress before waxing because it's easier – but it also creates much more dust – wear a mask!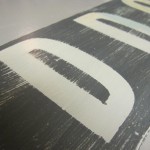 Step 6: Apply thin coat of clear wax & then a thin coat of dark wax. For the dresser, I diluted the dark wax using a 4:1 mixture of mineral spirits & wax (4 mineral spirits & 1 dark wax) to create a liquid that I could apply with a brush and then quickly wipe off. Adding dark wax to the graphite makes the grey almost black. Wipe off the excess wax as you go – leaving only a thin coat.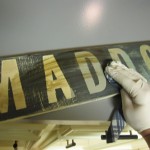 Step 7: Step back and enjoy your master piece!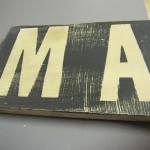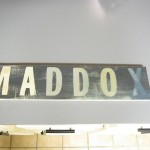 Maddox is our nephew – so while I did this as a quick demo – I think we'll finish this one up a bit more (paint the back & add hangers) and then put it in his nursery. But the brilliance of this idea is that you can do whatever you would like – and very easily! Old white underneath is still my favorite – but we will definitely be using this concept on future pieces moving forward.
Materials Needed:
A piece to work on – you choose the size, shape and style
AS Sloan paint – 2 or more colors
AS Wax – Clear and Dark
Mineral Spirits (low odor)
Gloves
Rags
Sanding blocks or a sander
Stick on letters from Hobby Lobby – I used 2″, 4″ and 6″ – buy extra packs of each!
We're extremely blessed to be a part of such a creative community & we love to see what others create. So seriously, take this idea and make it your own! Share with us what you create from it with a link or a comment – we'd love to see how this idea takes off.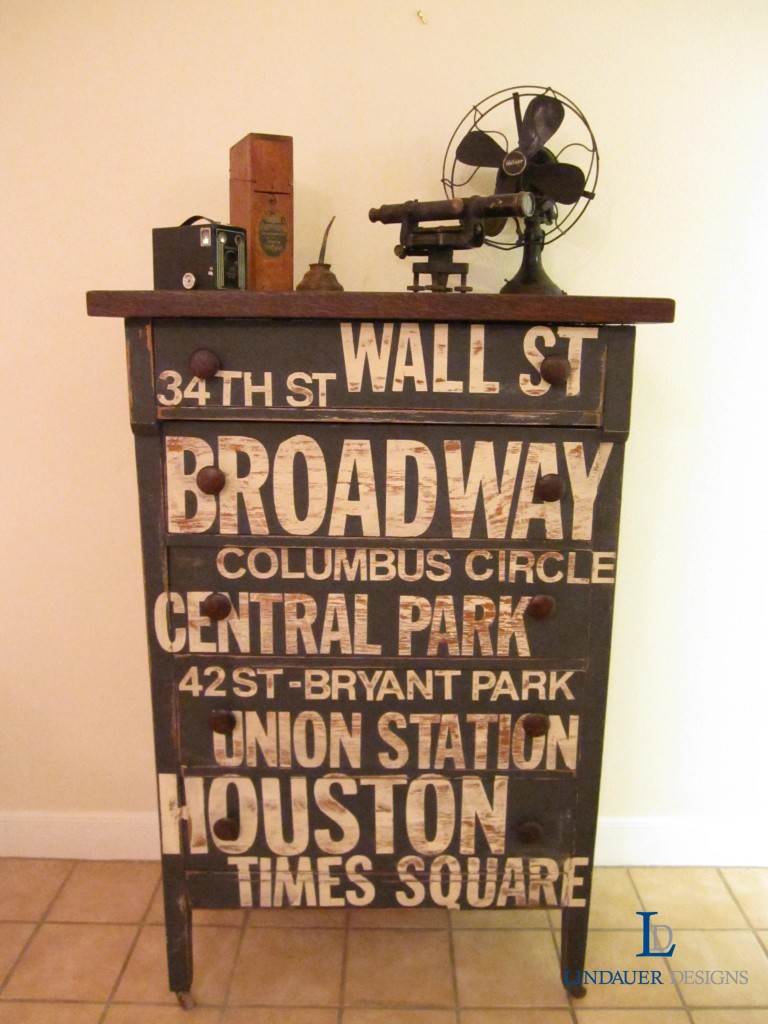 As seen on: