Life is a bit crazy around here! On a good note, Nick's wonderful sister got an amazing job! In the mean time, I get to be the crazy aunt and spoil my precious nephew daily as I play babysitter and I couldn't be happier about it. My apologies to all my friends and family who keep wondering where I am. You can find me at home covered in paint and baby spit up. =)
We have some fun shindigs coming up including a baby shower and my birthday (gasp! I'm turning 30) and both parties will be in our home. I've got my work cut out for me getting the house whipped into shape.
I've been feeling like we needed a little more color in the living room/dining room since they're connected. Imagine Nick's surprise when I greeted him at the door the other day when he got home from work and my first words were "Don't be mad, I did something crazy." <Insert panic face here.>
We're in a rental home so major changes aren't an option. But paint can easily be changed so I whipped out the Annie Sloan Chalk Paint and went to town painting the wall at the end of our dining room just one week after I spent hours putting up a picture gallery. I like to make things difficult! Dramatic, isn't it?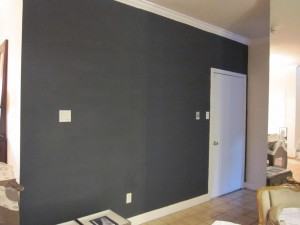 I'll be adding a skirted table like this one to the wall once my dear husband builds it for me. I'll be using a white duck fabric to blend in with the rest of the room. Stay tuned for details on how to make the skirt without sewing.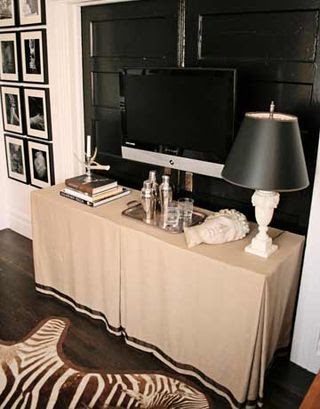 Image House Beautiful
Color… Check! Drama… Check! Uncertainty… Check! The dilemma is now what to put on the wall. We have a ton of art, but none of it seems to work with this color so I went searching online for a few options. Can ya help a sista out? Let me know what you think we should do!
Option 1: Large Scale Art
I love the Giuliana and Bill Rancic show on the Style Network mostly because of their gorgeous homes so naturally, I've spent hours googling pictures of all 20 something homes that they have lived in over the years and found this lovely piece of crazy art that made me swoon! Thom Filicia designed this home for them and I really think the large scale art is amazing!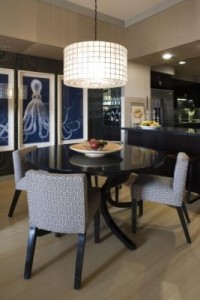 Via
We're not the Jones' so I figured why not create our own using The Graphic Fairy's vintage clip art of an octopus.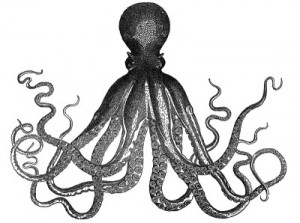 Via
Option 2: Blueprints framed as art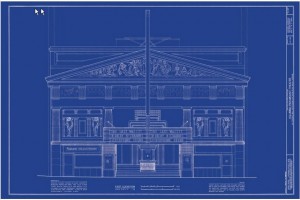 Via
We scored several real blueprints at an estate sale a while back and these could really add to the drama.
Option 3: The Fam
We have 4 of these brushed silver frames from Crate and Barrel and the photo gallery is really growing on me.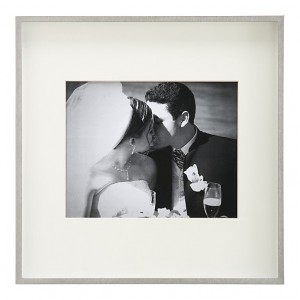 Via
So there are the options. I think I like the photo gallery the best because it's simple and clean and doesn't add too much. Let me know your thoughts and if you're looking for me… I'm snuggling on the couch with this guy!