DIY Anniversary Gift (sort of)
Yep – that's right. I got this book for Lauren for our 1 year anniversary. Don't crucify me just yet though. You see, I bought the "real" gift and then a light bulb went off in my head reminding me that it was the "paper" anniversary. Crud and double crud. So I got creative with the packaging. Lauren readily admits to not being a great cook (see her post here) and it's a joke between us and anyone that knows us really (and now the entire internet). Frozen chicken, omelets without cheese, 12 large onions instead of 12 pearl onions and purple chicken are just a few of the food adventures we've had together (plus food poisoning 2x). We laugh and joke about it because it's funny – she tried very very hard and I appreciate every attempt – and I eat them all without complaint (hence the food poisoning).
I actually am an excellent gifter – or at least I think so. I knew Lauren wanted a particular brand of watch with a certain style – so I started paying attention to watches that she was looking at and what she was drawn to. I was storing this information for her birthday or Christmas. But then our anniversary snuck up on me (who new it was November already!) and I panicked – ordered a watch online using my blow money and then I remembered that whole paper thing. Doh! I don't know where this idea came from, but I decided to buy a book, cut out the inside and present the watch to her like that. Two birds with one stone, right? And it would be funny. (Sometimes I laugh by myself – well a lot of the time).
So I ordered the book and went to Google to figure out how to do it. (Slightly backwards, but it worked). I found this awesome tutorial on how to do it – so I bookmarked it and waited for the gifts to arrive. I smartly had them shipped to my office as Lauren is part bloodhound and can sniff out anything. Once everything arrived, I used my lunch time for arts and crafts and created my nifty little gift package. I later read the comments on the how to post and found lots of great ways to do this better, but I'll store those away for future use. Plus I couldn't very well bring my dremel to the office without causing some questions.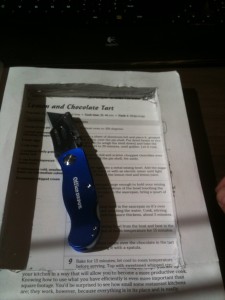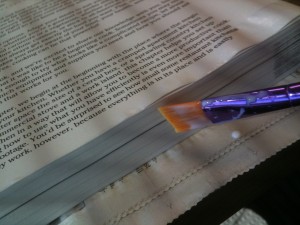 Doing this is pretty easy (sorry about the pictures – used my phone in the office) – and I didn't lose any blood. I would recommend using a power tool if you have access to one or don't have to hide this project from your spouse. But it's really messy using the exacto knife method that I used – so be prepared to have paper pieces all over the place.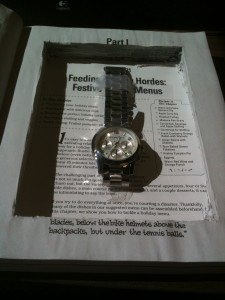 So there you have it – the finished book & gift! A few things I didn't think about was the fact that the book wasn't that thick, so I had to lay the watch down in it to get it to close properly. I wrapped it up and gave it to her and upon opening it, she was a bit confused but was as nice as ever saying "oh, thank you for the book! I really need this!" then I told her to open it and that's when the laughter started.
Happy anniversary Lauren – I'm so glad I finally convinced you to go out with me 😉