Dinnette Table Before & After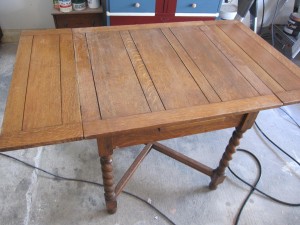 This little oak table came to us as a set with the Zoo Chairs – it wasn't in horrible condition but the original finish was well worn and the client wanted to get away from the traditional look of the table. So we decided to strip the top of the table and paint the body.
I used citristrip to remove the first layer of finish, wiped that down with acetone and then sanded to get an even finish. The next challenge came with having to clean out the grooves in the table – which had collected a few years worth of grime. I used the dremel tool to get into the grooves and then vacuumed out the gunk with the dust buster.
Then to be safe, I treated the top with pre-stain conditioner and then 2 coats of ebony stain followed by a clear coat of polycrylic. The base of the table was given two coats of Annie Sloan Old White, a coat of clear wax and then a diluted coat of dark wax. I dilute the dark wax for a few reasons – one so we don't have to use as much, two so that it doesn't go on as dark and three so that it goes on quicker (since it's thinner). To dilute the wax – just use equal parts wax and mineral spirits (or your own ratio to get desired results).
Once the dark wax was applied, Lauren distressed the legs and edges – with some additional light sanding over the dark wax to lightening up the color just a touch.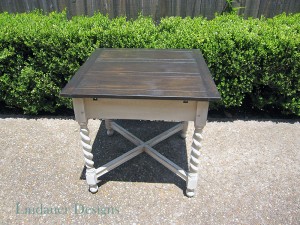 If you'd like us to customize a piece for you – just contact us and we would be happy to help