Custom Made Patio/Adirondack Chairs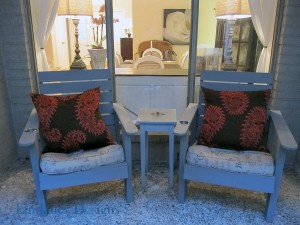 When we first moved in to the townhouse, the back patio was sad. Sad because it was empty, neglected and only had a little stool that was left behind for some reason or another. We have 2 dogs, so we needed to first make the space usable for them (with some mulch and plants) but we also needed some space to sit ourselves. Around that time I discovered Ana White's website. Holy crud – where was this website 5 years ago when I was re-modeling/buying furniture for my old house? I'm a man, but I'm not afraid to admit to using plans from her website! There, I said it.
Anyways… I didn't find the plans for these chairs there. I looked at all the Adirondack chairs on the site but nothing was really what I was looking for. We live right next to a neighborhood that Lauren secretly stalks (she wants our next home to be in that area) and each home has the same Adirondack chairs out front. I wanted something different (but not crazy) and I wanted cup holders. Doesn't seem like a huge deal but when was the last time you found an Adirondack chair with cup holders?
For 2 days I smelled like a gerbil as I cut everything down and assembled these chairs. Cedar shavings were everywhere. Assembly was easy and then I cut the holes for the cup holders and gave everything one last sanding (after filling in some holes with wood filler).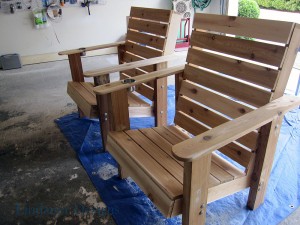 I stained the chairs a light grey outdoor patio stain. Colored stains can be mixed at your local Home Depot or Lowes for the same cost as any regular outdoor patio stain. The little table in between the chairs was a $3 yard sale find that I also coated with gery before adding the stencil to the top. (I can be a little creative sometimes too!). Lauren found the pillows and cushions at our local Marshall's Home Good store and before the weekend was over we were in business.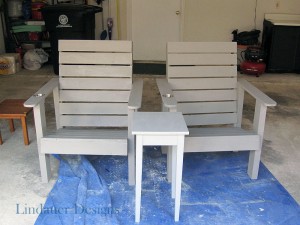 We are happy to make some custom chairs for you too – just contact us to let us know what you are looking for and we can put together some plans for you.