Blue Union Jack Coffee Table
SOLD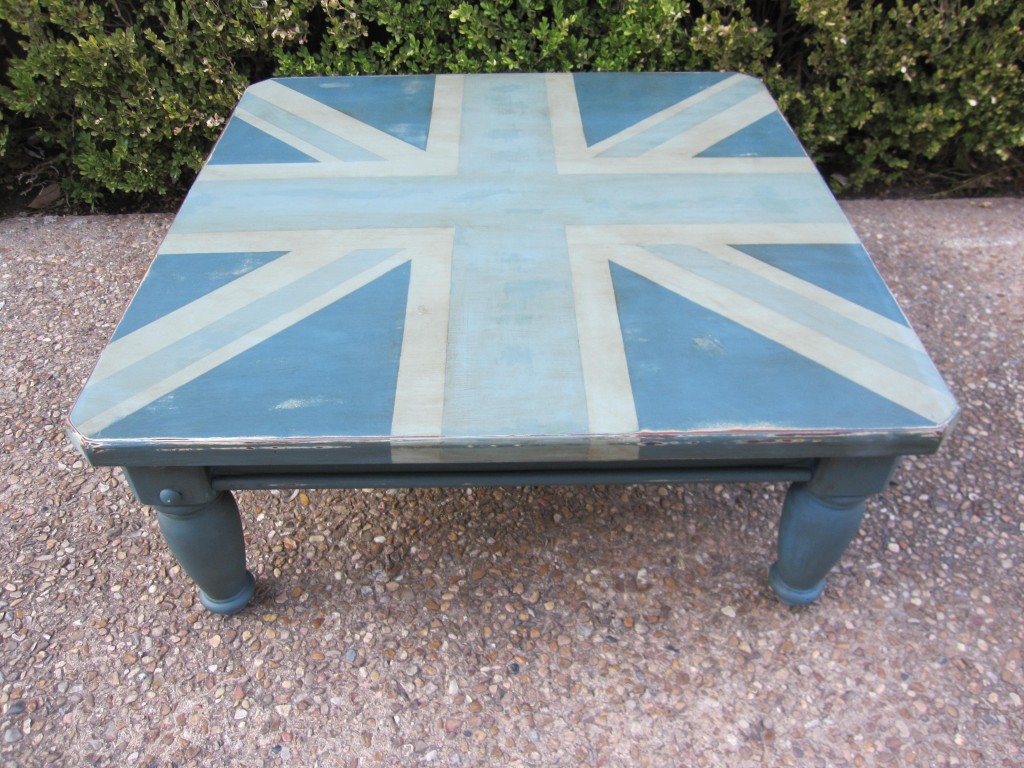 This coffee table has been sitting around our work space for quite some time – just waiting patiently for one of us to get some inspiration and make it fabulous. And it took some time for that inspiration to come. Finally, it hit me – make it something of an art piece, using the Union Jack as an inspiration – since it's all the rage and all over the bloggersphere since Miss Mustard Seed posted hers. But we didn't want to do the same old thing and follow tradition – so we took some ideas from Flea Market Trixies awesome Union Jack Fabric creations and came up with our own Union Jack. Anyone that's ever painted one of these knows just how hard it is to get everything measured out and perfectly taped – make sure you have plenty of Frog tape (we love this stuff), but after much trial and error, we finally got it down right and started with the colors.
To achieve the consistent clue theme throughout the table – we started with Abusson Blue (Annie Sloan) as the base and instead of adding Old White to lighten it up – we added Paris Grey – which resulted in a perfect blend of blue/grey. Each shade was simply adding more Paris Grey to get to a lighter blue – until it became almost grey with just a hint of the original blue. From there, the coffee table was distressed and waxed – first with several coats of dark wax (thinned down) and then a final coat of clear wax for protection.
The result? A gorgeous blue Union Jack Coffee table that looks as though an old flag has been draped over the top of it. And I forgot to mention how heavy/sturdy this piece is – takes two people to comfortable move it – kids can dance on top of it (or you could) without any problems. We love this table!
Measurements: 38″x38″ wide – 16″ tall
Price: SOLD – Contact us if you are interested