So the posts about furniture have slowed a bit in the last week – and all for a good reason. We've spent the last week and a half getting ready for and then getting adjusted to having a baby in the house! From 0 to 2.5 months in less then 3 days – most people have 9 months to prepare for a baby – we literally had 24 hours. And that included cleaning out the guest room, getting everything a baby needs and getting the house and dogs ready.
So everyone – meet Maddox – my 2.5 month old nephew. He is a great baby – minus the exploding diaper the minute I was left alone with him. Maddox & my sister moved out here to TX to stay with us in order to get started on the right foot – so they literally arrived with 4 suitcases and nothing else. And of course we had nothing for a baby on hand – so we got the basics set up (crib, changing table and other furniture) first and then we started knocking out the other items.
I wanted to write this post to everyone that's helped us in the last week or volunteered to help us. Many people have donated clothes, old baby stuff and toys – so much so that I'm convinced he'll never need another onesie, but then again I didn't realize that they could go through 4-5 a day. Lots of baby things I didn't (and still don't know) but am learning bit by bit. Case in point, I used to think the Huggies commercial with the dancing rap babies with the expanding diapers was gross and a little overboard – but I know now that it was spot on. Dancing babies do like to dance in their dirty diapers!
Lauren & I have been so blessed by everyone and everything in our lives. We are so happy to be in a position to help others and take care of family. A year ago, Lauren & I were both working full time jobs and burning the candle at both ends. By following the Dave Ramsey plan we were able to get to a point where Lauren could stay home and work on Lindauer Designs full time. Fast forward to 2 weeks ago, when we were able to sit down and make a huge change to our lives without having to worry about our financial well being. To be able to help out someone (anyone) without having to worry about it is one of the greatest gifts of all. And Lauren works from home so she's able to help with the baby during the day while my sister goes back to school and works. And this weekend, I took my sister with me to see Dave live so that she too could start to change her family tree. Moving away from a bad situation was a huge step for her and we want to provide her with all the tools/support she could possibly need to make good solid decisions.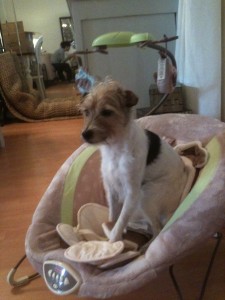 It's been just over a week and I'm happy to say that the dogs are adjusting well. At first, they were perturbed by either Lauren or I holding something that they couldn't eat or play with – but they've settled in. The worst thing now is that they love diapers – clean or dirty, they want to chew them to pieces. So that's been fun. Our dogs can open doors, drawers and get on counter tops – so hiding diapers is fast becoming an art form for us.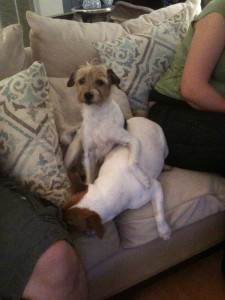 That's it – just a big thank you for everyone that's helped out, donated items or even just called to check in. We are all blessed to be supported by such wonderful friends and family! And not to worry, we're getting into a groove and will get back to the regular furniture postings asap. In fact, we just picked up some new items and finished an entire dining room set this weekend!