Currently viewing the tag: "stained"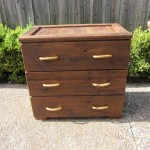 On
August 26, 2011
By
Nick
What can we say – this chest of drawers is massive! Each drawer is 12 inches tall, 24 inches deep and almost 40 inches wide! It's made of solid wood with heavy rope handles – stained with a walnut stain. This would make a great blanket chest and/or a toy chest in the […]
Continue Reading

→
On
August 12, 2011
By
Nick
This little oak table came to us as a set with the Zoo Chairs – it wasn't in horrible condition but the original finish was well worn and the client wanted to get away from the traditional look of the table. So we decided to strip the top of […]
Continue Reading

→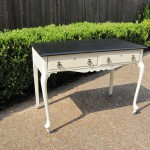 SOLDThis little desk/vanity is the essence of true cottage style. This piece includes two drawers and beautiful lines. Made from solid wood with a creamy white finish and stained top, its a show stopper and will be great as a desk or vanity.
I sanded and stripped her down, filled the holes from the original […]
Continue Reading

→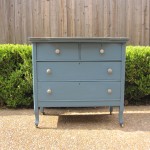 Yes, I forgot to take a before picture of this one folks. But don't hate me – I acquired this piece at 11:30am today and by 4:30pm it was done – so I was a little bit busy. I set off this morning to pick up a curvy desk from a source and […]
Continue Reading

→