Currently viewing the tag: "Lamps"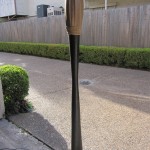 One of the hazards about working in the internet marketing space, I'm constantly asked IT related questions. In fact I'm pretty sure that I am now the on call IT service for the family. Now that we are working on furniture – either building, refinishing or designing – we are getting asked about random projects. […]
Continue Reading

→
I came across these lamps at Goodwill a few weeks back and snapped them up  with visions of repainting them and bringing them back from the 70's. Electric yellow with silver taped accents? Yikes! But I could see the shape of these would make something great.
However, before I could dig into these – and […]
Continue Reading

→