Currently viewing the tag: "grey"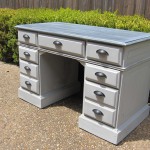 On
August 26, 2011
By
Nick
Fantastic 7 Drawer Pedestal desk – refinished with Paris Gray on the bottom and Graphite with a white wax on the top. We even finished the back of this piece so it can sit in the middle of a room if you want. All of the hardware has been replaced.
This beauty […]
Continue Reading

→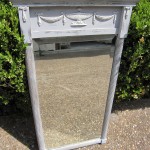 I admit it – I don't understand a lot of this home decor stuff (like the rule of 3's or 5's – huh?) so while at a recent auction, when this mirror came up and Lauren started excitedly hitting my arm (way to be discreet honey) – I just went with it and we picked […]
Continue Reading

→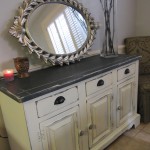 We've all seen these hutch/buffets before. Most likely at a Goodwill – or sometime during your childhood. Sorry about the before picture – I started getting into this piece before I remembered to grab the camera.
This piece came from the same set of stuff we picked up with the Continue Reading →