Currently viewing the tag: "Buffet"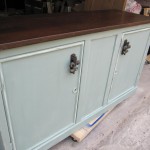 On
August 26, 2011
By
Nick
I picked up this piece after just seeing a picture of it online – I could tell from the original photo that is was solid wood and would look great refinished. And holy cow, I was right – it is all solid wood! The top is one piece that actually can come […]
Continue Reading

→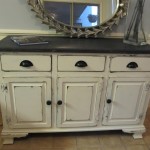 Seen this one before? Deja Vu? This buffet reminds me of something my mom used to say to us – "I brought you into this world and I can take you out out of it and make another one just like you". Well folks, that's what I had to do. After I sold Continue Reading →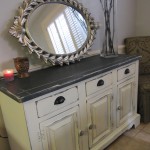 We've all seen these hutch/buffets before. Most likely at a Goodwill – or sometime during your childhood. Sorry about the before picture – I started getting into this piece before I remembered to grab the camera.
This piece came from the same set of stuff we picked up with the Continue Reading →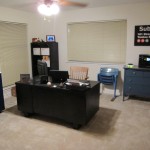 Well it's finally done – just 5 months after moving in, I've unpacked the last box! Well, not really – I still have little boxes, but for all the basic moving purposes all the big boxes are empty! My office was the last on my list to do – so it became a dumping ground […]
Continue Reading

→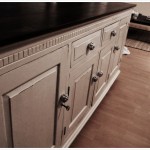 This piece was picked up on the last day of an estate sale – when everything was 1/2 off. It was ugly, neglected and shunned to the back of the warehouse – but we saw the potential. Just look at her now! We stripped and re-stained the top, painted the body an […]
Continue Reading

→