Silhouette Cameo Sweepstakes Giveaway
(now Closed)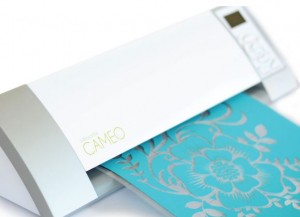 We're giving away a Silhouette CAMEO™ to one lucky fan! We've arranged for one of you to get a brand spankin' new Silhouette CAMEO!  One lucky reader will receive a FREE Silhouette CAMEO machine. Valued at $299! Be sure to check out everything you can do with a Silhouette Cameo – think about all of the amazing subway art you could create!
Three ways to win:
1) Like us on Facebook
2) Follow our site & leave a comment here
3) Enter on the sweepstakes tab
That's it!
The Silhouette CAMEO™ is an electronic cutting tool for personal use. Like a home printer, it plugs into your PC or Mac® with a simple USB cable. However, instead of printing it uses a small blade to cut paper, cardstock, vinyl, fabric and more up to 12″ wide and 10 feet long. The machine also boasts a quiet motor and the ability to register and cut printed materials.
The Silhouette CAMEO™ ships with the following important items:
Silhouette electronic cutting tool
Silhouette Studio® software for Windows XP/Vista/7 and Mac® OS X 10.5.8 and higher
51 exclusive cuttable designs
Power cable, USB cable
12″ cutting mat
Cutting blade
$10 gift card to the Silhouette Online Store
Basic Instruction Guide